Our mission is to strengthen and support stamp clubs in Minnesota, Wisconsin, Iowa and the Dakotas; to promote philately; and to support and enhance the Northern Philatelic Library.  Annual dues are only $25, which gives you borrowing privileges at the Library and entitles you to participate at planning meetings.
PLEASE NOTE: The Library is open again now from 10:00am to 12:00pm Monday to Saturday.
The Library has a new President
On Saturday 22nd of 2017 the at the Annual General Meeting at Expo 2017, Al Sarvi was voted in as the new President of the Northern Philatelic Society and Library.  Paul Hempel is now the Immediate Past President.  Al took the opportunity to thank Paul for all the work that he had put in and the achievement that had been made under Paul's presidency.
Stamp Academy at the Library
The Library has started a Stamp Academy which is held at the Library each Wednesday between 10:00am and 12:00noon.  Come along and discuss any problems that you are having with your stamps, learn about buying and selling, what to do with a collection that you have just inherited, what are the best resources available to help you.  Bring your questions one and all and we'll help.
The library now has a new home:
On July 1st, 2016 the Northern Philatelic Library took possession of a property that is now the permanent home of our collection of philatelic books, periodicals and auction catalogs.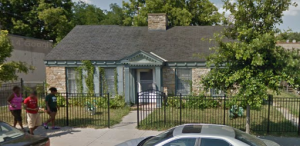 The property is located at 1110 Lowry Ave N, Minneapolis. It is a solid construction as you can see in the picture and has enough room to house our collection and to conduct meetings, seminars, bourses etc.  The building has been extensively refurbished by Paul Henpel and Rudi Anders and their talented crew. We are now fully unpacked and ready to help you with your philatelic research or any general questions that you have about stamp collecting.
Directions to the Library:
To get to the Library take the Dowling Ave exit off highway 94 and head west to Lyndale Ave N.  Turn left on Lyndale and follow it down to Lowry Ave N.  Turn right on Lowry. The Library will be approx. one quarter of a mile on your right.