David Bushard was the founder, visionary and driving force behind the Northern Philatelic Library.  He passed away on November 1, 2014, in River Falls, Wisconsin, at age 68, after a long struggle with prostate cancer.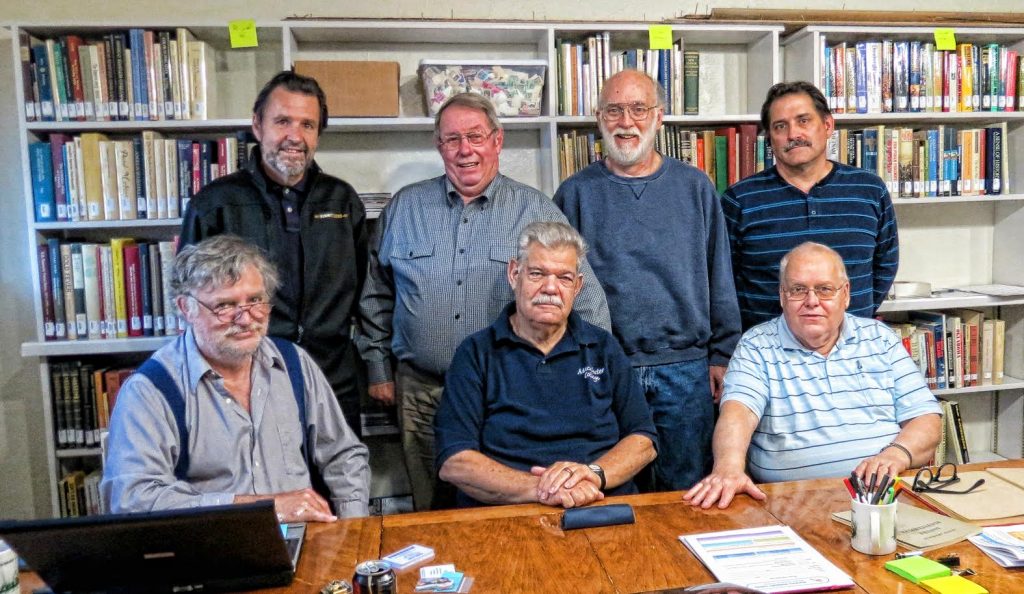 David, who is seen sitting on the left at the table in the above picture, was a man of many interests and endeavors, ranging from moving boulders with his personal backhoe, to raising tropical fish, to astronomy, to cave diving, photography and stamp collecting.  He founded the Northern Philatelic Library in 2011 after purchasing the large book collection of a local Twin Cities philatelic judge who had recently passed away.  He first kept the thousands of volumes in his home basement, then moved it to a small apartment in a St. Paul apartment building he was considering purchasing as a real estate investment.  When the library quickly out paced his initial vision, and hundreds more books and periodicals began pouring in, the library was again moved, this time to a more permanent site on the ground floor of the Old Thompson Hotel, a former speakeasy and pleasure house now converted to an apartment building across the Mississippi River from downtown St. Paul. David's many friends and contacts began to help him build the library, donating thousands of books and catalogues from around the country. David would often go to big out-of-town stamp shows pulling a trailer with his pickup truck and returning with boxes and boxes of new stuff, keeping the library's many volunteers perpetually busy cataloguing and shelving the new arrivals.  In all of these endeavors, he was ably helped by Susan, his saintly wife of 47 years, a Twin Cities nurse and medical researcher, with whom he eloped at age 19.
David was born in Grand Rapids, Minnesota and grew up in Saint Paul and Bid Lake. He attended the University of Minnesota. In his life he worked as a draftsman, home builder and cabinet-maker. He taught computer-assisted design at the St. Paul Technical Institute and later worked as a computer programmer. He finished his professional career as the owner of an internet service provider company. He truly enjoyed being an entrepreneur.
Throughout his life, David and Susan enjoyed a wide variety of fascinating hobbies.  He learned to bind books in high school and was often busily at work binding the stamp library's thousands of loose catalogues into a more user-friendly form.  His interest in spelunking included contributing to the exploration of the well know Mystery Cave in southern Minnesota. He did a great deal of photography, but his interest in this hobby slowed down with the advent of the digital era. His interest in astronomy involved his purchase of a large telescope, which he enjoyed on his rural River Falls estate, far from the lights of the big city. During all these years he kept up his interest in stamp collecting, the hobby he began as a teenager.  David collected worldwide material and donated most of it to the stamp library to be used as a fund-raiser.
David's many friends and stamp colleagues will miss his upbeat attitude and positive outlook.  Even as his several illnesses began to sap his strength, he'd come to the library to build shelving and fix up the building in which it is housed.  He still actively attended local stamp club and library board meetings. One of his final acts was to donate the library to the Northern Philatelic Society so that his dream would be kept alive.  David will be sorely missed but his legacy is solidly up and running and attracting users and donations from near and far.